News:
A short video about everything you wanted to know about SEA but were afraid to ask:
Link to video here
---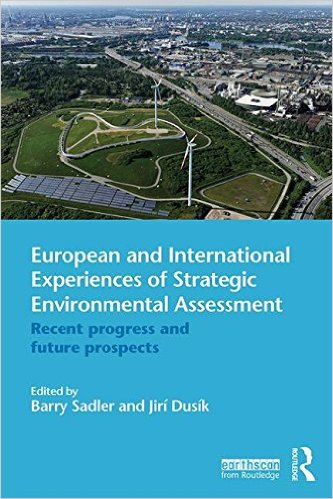 Routledge Publishing just released our publication 'European and International Experiences of Strategic Environmental Assessment: Recent progress and future prospects' with contributions from the world´s leading SEA experts, as well as from representatives  of the European Commission and the UNECE. You can purchase the book on Amazon.com:
> http://www.amazon.com/International-Experiences-Strategic-Environmental-Assessment/dp/041565677X
---
Within the project 'Information exchange support on the climate change consequences and adaptation measures at the national and regional levels' we have proposed the concept of a 'National Climate Change Adaptation Award' to support the development and application of appropriate climate change adaptation measures in the Czech Republic. We will organize the first round of this award scheme in 2016 – for more information see www.regio-adapt.cz.
---
The Air Quality Improvement Strategy (up to 2020) of the Czech Republic: In cooperation with the Regional EIA Centre and external experts, we are currently finalizing the SEA for a total of twelve strategic documents, including the National Emission Reduction Programme, the National Medium-Term Strategy (up to 2020) for Air Quality Improvement, and the Air Quality Improvement Programmes designed specifically for particular regions.
---
Our activities in Slovakia focus on climate change and environmental impact assessment. In cooperation with the Ministry of Transport, Construction and Regional Development of the Slovak Republic we have completed a methodology for the assessment of climate risks. We have also drafted a proposal for modifying the national EIA system. SEA procedures for the Transport Urban Plan of Bratislava Municipality and the Transport Strategy of Košice City are in final stages.
---